Please take a look at what makes us the clear choice for providing unique and dignified funeral services that are trusted in our community. The information below contains our story and history along with a tour of our facilities and bios on our knowledgeable and caring associates.
Wentz Funeral Home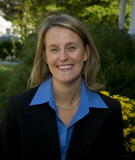 Kirstin Wentz McElroy
Funeral Director
Kirstin is a graduate of Susquehanna University with a bachelor's degree in Psychology. While she was at Susquehanna, she served as treasurer and project manager of Big Brothers/Big Sisters, she was the Curricular Service Scholar, and served as Vice President of Alumnae Relations and President for Sigma Kappa Sorority. Kirstin currently serves on the Board of Limited Jurisdiction of Pope John Paul II Regional Elementary School.